Image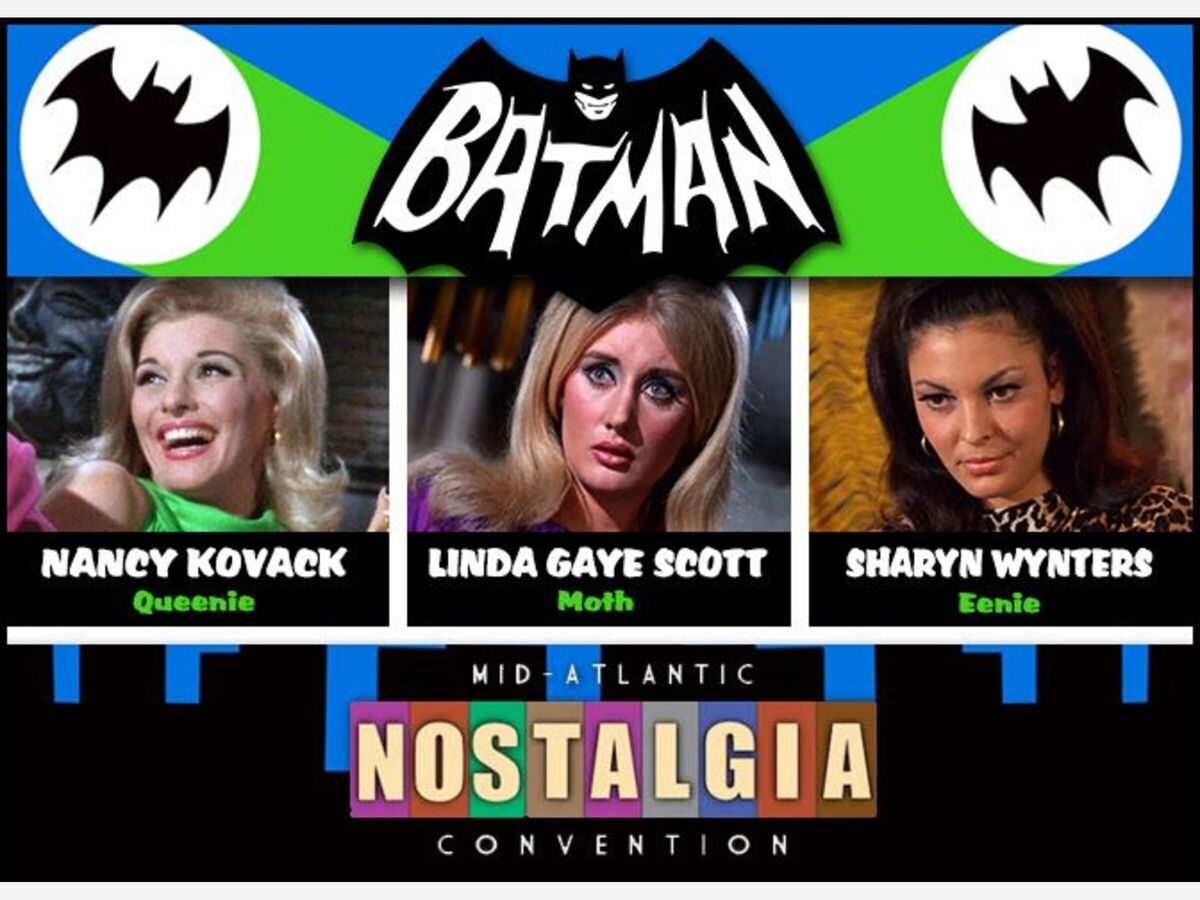 THE LARGEST EVENT OF ITS KIND

Three beautiful actresses who were also villains on TV's BATMAN
LINDA GAYE SCOTT became a fixture on television in the 1960s and 1970s, appearing in numerous TV series, including the role of Moth (Riddler's gun moll) on BATMAN, as a space alien on THE GREEN HORNET (also known as the only person to ever defeat Bruce Lee on the screen), as Dixie Wells on BONANZA, in the zombie episode of THE MAN FROM U.N.C.L.E., romanced Dr. Smith on LOST IN SPACE, challenged COLUMBO, and many others. Science-fiction fans know her as Arlette in the Yul Brynner classic, WESTWORLD (1973). So you can imagine the behind-the-stories she will share during the weekend!

SHARYN WYNTERS was not just a villain on BATMAN, but wrestled Lon Chaney, Jr. in THE FEMALE BUNCH (1971), was the Apache girl in WESTWORLD (1973) and bumped into numerous detectives including LONGSTREET, MATT HELM, BANACEK, and MANNIX.

NANCY KOVACK co-starred with Elvis in FRANKIE AND JOHNNY, got involved with JASON AND THE ARGONAUTS, was terrified of Vincent Price in DIARY OF A MADMAN, worked with The Three Stooges in THE OUTLAWS IS COMING, and made notable guest appearances on everything from BATMAN to STAR TREK.


Photo above: Nancy Kovak in the STAR TREK episode, "A Private Little War."
LYNN-HOLLY JOHNSON
Film buffs loved her performance in THE WATCHER IN THE WOODS (1980) and ICE CASTLES (1978). But it was her professional figure skating career that helped land her the athletic role of Bibi, the attractive Bond girl in the Roger Moore classic, FOR YOUR EYES ONLY (1981). She rarely does autographing events so fans of James Bond movies have a rare opportunity to meet her and get her autograph!
CONSTANCE TOWERS
We are excited announce Constance Towers! She co-starred with Frankie Laine in BRING YOUR SMILE ALONG (1955), and appeared in exceptionally strong ingénue roles in THE HORSE SOLDIERS (1959) starring John Wayne, and in SERGEANT RUTLEDGE (1960) opposite Jeffrey Hunter. Director Samuel Fuller cast her against type in some of his highly offbeat dramas. She played a stripper girlfriend in SHOCK CORRIDOR (1963) and in THE NAKED KISS (1964) gave a no-holds-barred performance as a former prostitute trying to clean up her act. Her TV guest appearances were frequent on such shows THE OUTER LIMITS, THE ZANE GREY THEATRE, PERRY MASON and others.

SURPRISE GUESTS TO BE ANNOUNCED
THE FIRST WEEK OF JUNE!

Mark Your Calendars!
Spread the word to your friends!
September 15 to 17, 2022

Hotel rooms have been available at the convention discount rate! Remember that they sell out every year and we are already getting complaints from people who are finding out certain nights are sold out so do not delay and grab your room now! You can book your room online by clicking the link below.
.
Mid Atlantic Nostalgia Convention
Hunt Valley Delta Marriott
SHAWAN ROAD
HUNT VALLEY, MD 21030
United States