Image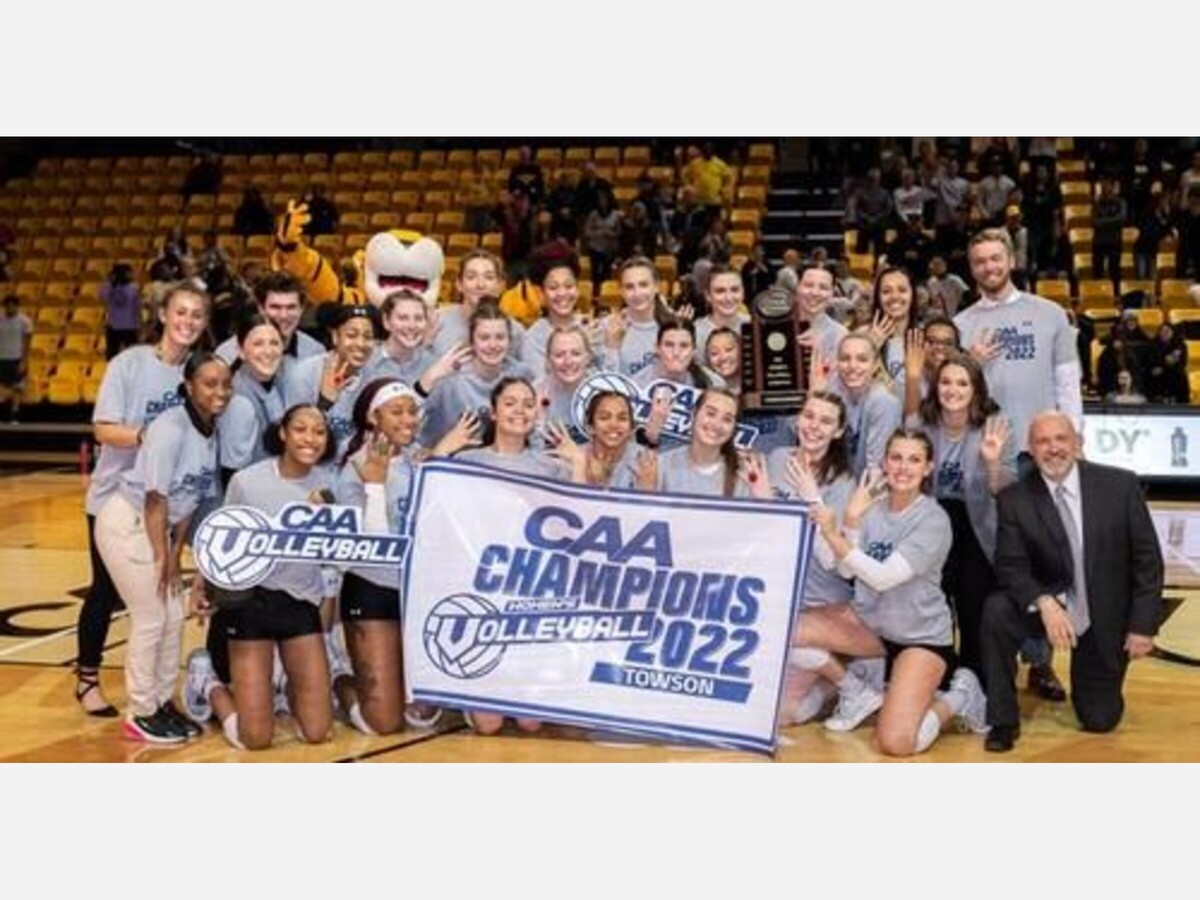 CHAMPIONS!!!! TOWSON SWEEPS DELAWARE TO CAPTURE FOURTH CONSECUTIVE CAA TITLE
TOWSON, Md. – The Towson University volleyball team faced off against the Delaware Blue Hens in the CAA Championship tonight. The Tigers (29-1, 15-1 CAA) swept the Blue Hens (17-11, 10-6 CAA) to clinch their fourth straight CAA Championship 25-15, 25-21, 25-22.
Key Stats vs Delaware:
Towson had eight aces compared to three for the Blue Hens.
The Tigers finished with a .350 hit percentage, totaling higher than .300 in all three sets.
Victoria Barrett finished with 16 kills on a .500 hit percentage, six digs and two total blocks.
How It Happened vs Delaware:
Katie McCracken gave the Tigers a fast start with back-to-back aces, but Delaware tied the score up after two attack errors by the Tigers. Towson regained the lead after a 10-3 run that included five Victoria Barrett kills and a Fay Bakodimou ace to have a 12-5 lead.
The Blue Hens countered with a 4-1 run to close the gap, but Towson countered with a 6-1 run, which included McCracken's third ace of the set to earn a 19-10 advantage. Both teams traded points until the Tigers won the set 25-15.
Towson jumped out to a 7-3 lead to open the second set behind Irbe Lazda's three kills. Delaware was able to reduce its deficit to two twice, but the Tigers responded both times.
Towson went on a 4-1 run to have a 15-10 advantage, but the Blue Hens cut their deficit to three after a 5-2 run. The Tigers responded with three kills and a Sydney Stewart ace to take a 21-14 lead.
Delaware went on a 6-2 run to trail by three again but kills from Aayinde Smith and Barrett gave Towson a 25-21 set win.
The Tigers earned a 6-2 lead to start the third set, but the Blue Hens scored five consecutive points to take a 7-6 advantage. Towson and Delaware went back and forth until the Blue Hens got back-to-back kills to earn a 10-8 edge.
The Tigers went on a 4-1 run to regain the lead at 12-11, but Delaware countered with its own 4-1 run to earn a 15-13 advantage. Towson scored four straight points to retake the lead after back-to-back blocks from Lydia Wiers and Barrett gave the Tigers a 17-15 edge.
The Blue Hens took the lead back after a 4-1 run, but Towson responded with a 6-1 run to face match point. Delaware got consecutive points to reduce its deficit to two, but a ball-handling error by the Blue Hens sealed the match for the Tigers.
Inside the Numbers vs Delaware:
Victoria Barrett was named the CAA Tournament MVP after totaling 47 kills across three matches. Nina Cajic and Aayinde Smith also were named to the CAA Volleyball All-Tournament Team.
The Tigers had four players finish with a hit percentage of .400 or higher. Nina Cajic finished with a team-high .579 hit percentage and 11 kills. This is Cajic's 11th match with a .500 or higher hit percentage this season.
Fay Bakodimou and Rachel Hess each had a team-high eight digs. Bakodimou added five kills and two aces, while Hess added three assists and one ace.
Katie McCracken led the Tigers with 23 assists and three aces. McCracken has finished with 20 or more assists in three of the last four matches.
Towson finished the season perfect at SECU Arena, going 16-0.
The Tigers have totaled 18 sweeps throughout the year, with eight occurring at SECU Arena.
Towson is the first team to four-peat as CAA Champions since George Mason won five in 1992-96.
The Tigers have made the NCAA Tournament for the fourth consecutive season.
Next Game:
Towson has earned an automatic qualifier in the NCAA Tournament. The Tigers will find out their opponent on Sunday, Nov. 29th, at 7:30 p.m. on ESPNU.