Image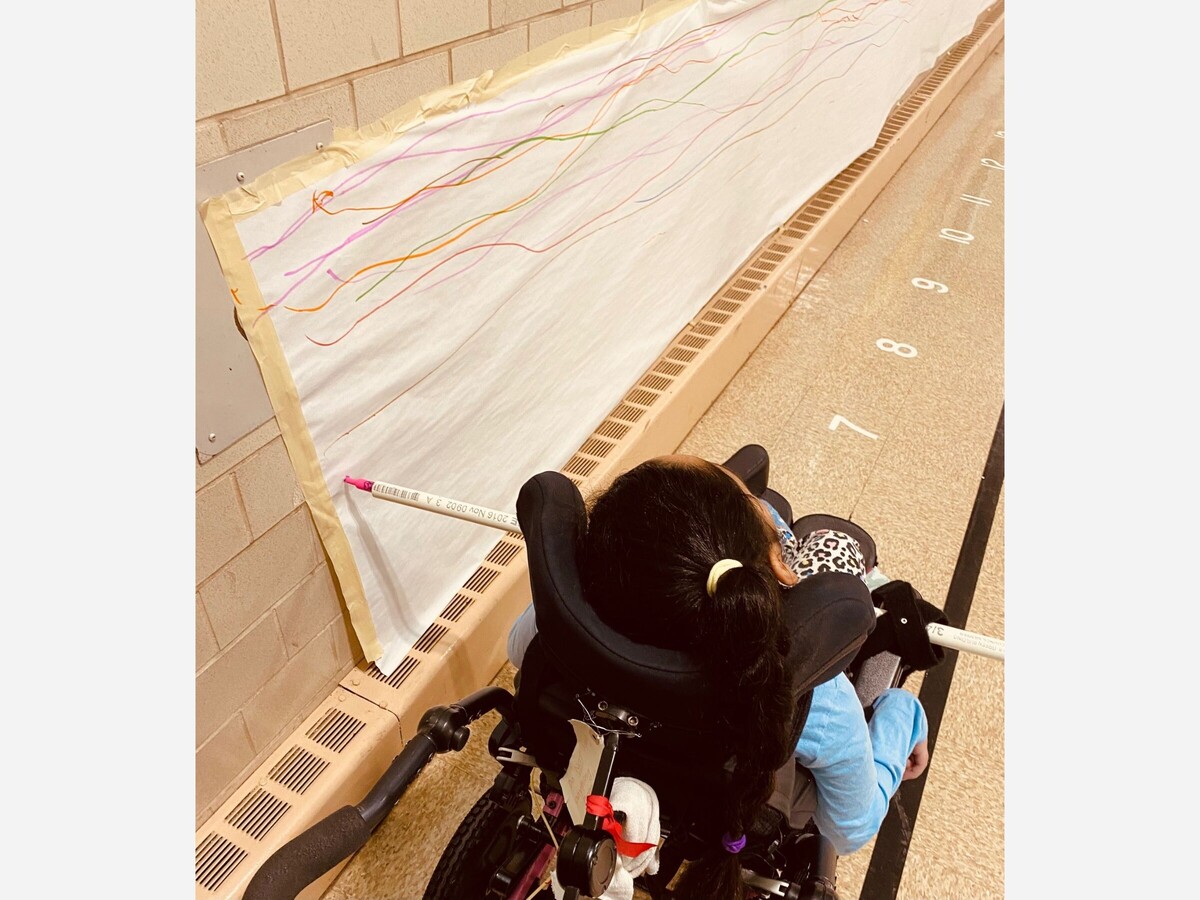 ACTION ART ADVENTURE WEEK AT RIDGE RUXTON SCHOOL EMPOWERS ALL STUDENTS TO MAKE ART
By TEAM BCPS
"There are two distinct languages. There is the verbal, which separates people… and there is the visual that is understood by everybody." – Yaacov Agam, sculptor
EVERY ONE OF US AN ARTIST
Every one of us can make art and react to it – that's the lesson of Action Art Adventure Week at Ridge Ruxton School (a special day school for students with significant disabilities).
Last month, enthusiastic students, with support of school staff, fully immersed themselves in collaborative and individual artmaking. Fun, creative, and dynamic tools facilitated participation by all students.
The week is the brainchild of Ridge Ruxton's visual arts educator, Tricia Lane-Forster. "For about six years, I gathered ideas about ways that all students -- including students with limited movement or communication – could make art," she says. "A lot of the ideas I found were too big to do in the art room."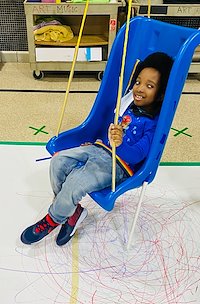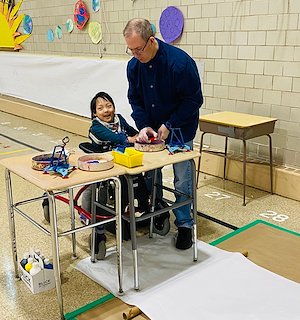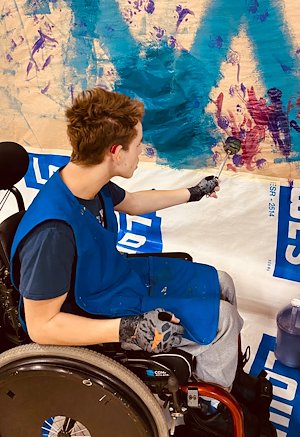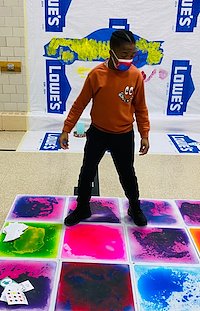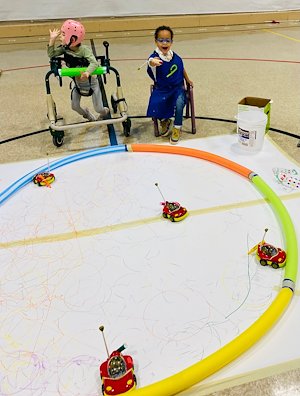 In 2018, Lane-Forster received a grant from the Special Needs Art Education Focus Group of the National Art Education Association. The grant allowed her to purchase the supplies needed to carry out her ideas. The equipment purchased – including remote control cars and mini-catapults -- continues to be used.
The school's first Action Art Week was held in 2019. The 2022 Action Art Week is the first again since the onset of the pandemic.
For the week, equipment was set up in the gymnasium so students could interact with 12 stations where they engaged in activities like swinging over a large piece of paper and drawing on the floor, using remote control cars to draw on paper, weaving materials through a large net; projecting paint onto paper using a large catapult; and more.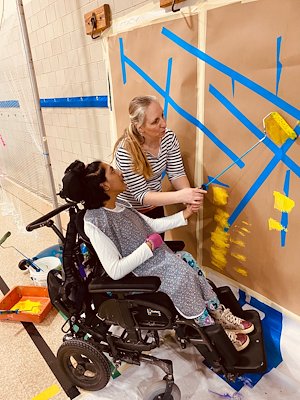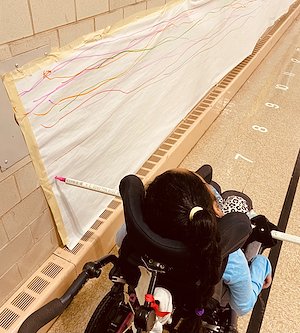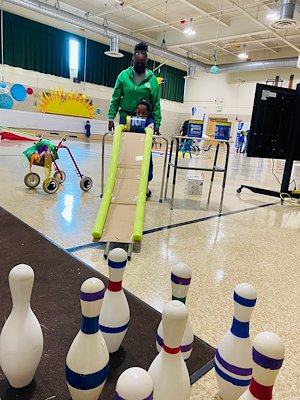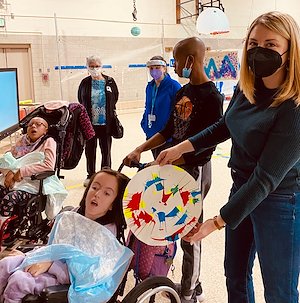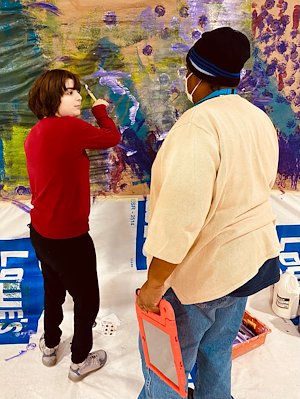 INTERDISCIPLINARY BENEFITS OF ART
The week before, Lane-Forster taught students about famous "action artists," individuals such as Jackson Pollock, Ushio Shinohara, George Barber, and Yoko Ono., who worked vigorously and sometimes dripped and spilled paint onto their canvases. While students made art in the gym, videos (on mute) showed various action artists creating art.
According to Lane-Forster, Action Art Adventure Week involves the school's entire staff. "Our adapted physical education teachers, Paul Lanier and Erin Luccio, are integral to the event," she says. "They use the activities to work with students on adapted physical education goals, such as walking and grasping. The experience helps build students' social and motor skills. Classroom teachers use the artmaking activities to help students make connections to science concepts."
"I couldn't have done any of this without our para-educators and adult assistants helping!" Lane-Forster adds. "They are awesome!
Lane-Forster notes that the process of making art empowers Ridge Ruxton students to make choices about the activities they want to engage in, the colors they want to use, and the marks they want to make – and yields a final product that they created.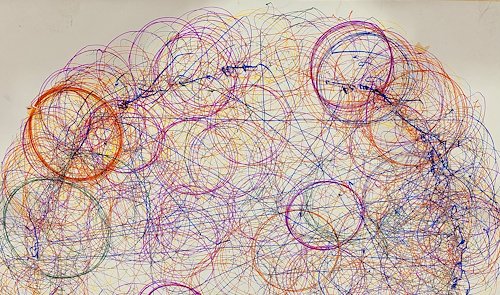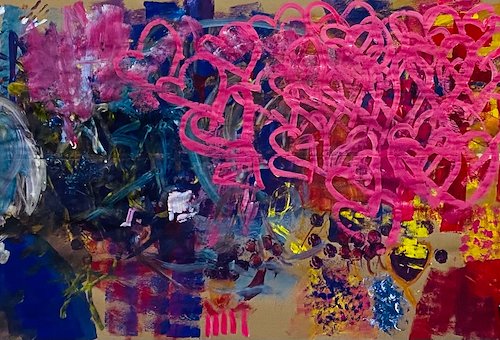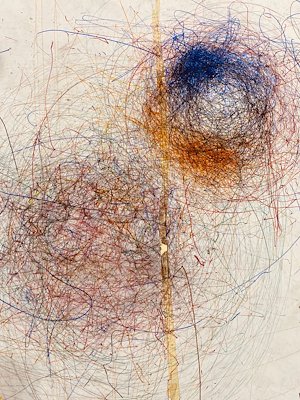 "THEY ARE REALLY HAPPY."
"They get into the gymnasium, and they are really happy," says Lane-Forster.
On the fourth day of the week, 12 National Art Honor Society students and two teachers from Parkville High School volunteered, assisting Ridge Ruxton students in making art.
The week concluded on Saturday, November 19, with a Pop-Art Show. At the show, students' family members and friends and community members viewed art created by Ridge Ruxton students, viewed photos of students making art, and sampled the artmaking experience.
(Additional photos from the week can be found in a BCPS Flickr album. The video below is from the 2019 event.)
© 2022 TEAM BCPS