Image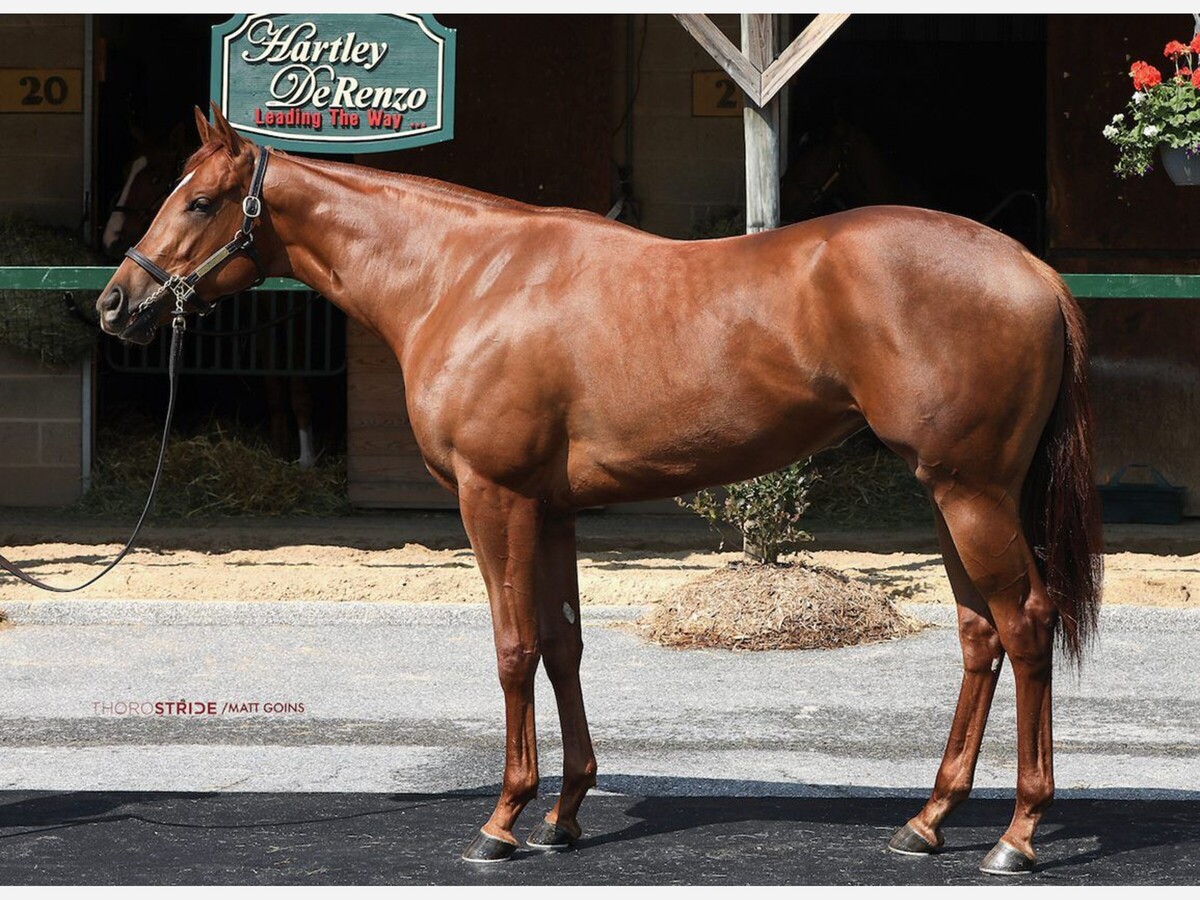 Radcliffe Buys $1-Million Arrogate Filly To Pace Strong Midlantic Sale
Hip 552 | ThoroStride
By Jessica Martini, Thoroughbred Daily News
TIMONIUM, MD – With a $1-million filly leading the way, the Fasig-Tipton Midlantic May 2-Year-Olds in Training Sale concluded its two-day run at the Maryland State Fairgrounds with statistics close to its record-setting 2022 renewal.
"It was a great two days in Maryland," Fasig-Tipton Midlantic Sales Director Paget Bennett said Tuesday evening. "There was plenty of competition for the horses people wanted. The ones they want, they all go to battle on."
Midlantic sales barns | Fasig-Tipton photo
At the end of Tuesday's session, 375 head sold for $34,795,500. The average was $92,788–down just 2.7% from last year's record figure of $95,391. The median was up 6.4% to $50,000.
The difference in figures was almost entirely attributable to last year's sale-record-setting $3.55-million topper, which pushed the auction to its highest-ever gross of $37,297,700.
"We almost matched the [record] gross, but last year, we had a $3.55-million horse," Bennett said. "That was kind of what we were missing this year. So we are very happy with the results."
From a catalogue of 603, 437 horses went through the ring. With 62 horses reported not sold, the buy-back rate was 14.2%. It was 18.9% a year ago.
Bloodstock agent Kerri Radcliffe, bidding on behalf of an undisclosed client, landed the auction's top-priced offering, a $1-million daughter of the late champion Arrogate. The sale-topper was consigned by Hartley/de Renzo Thoroughbreds. Clay Shearer was the underbidder.
Radcliffe was at the top of a broad buying bench, with the top 10 lots purchased by eight different buyers at the auction which last year produced GI Kentucky Derby winner Mage (Good Magic).
"The buyers came from all over," Bennett said. "Every year, we see new buyers and that's very rewarding. People know they can get runners here and we proved that the first Saturday in May at Churchill Downs. It's very exciting for this sale to have the success on the track that we are seeing."
Arrogate Filly Sets Off Midlantic Fireworks
A filly by Arrogate (hip 552), the most hyped horse on the sales grounds all week, delivered in the sales ring Tuesday when selling for $1 million to the bid of bloodstock agent Kerri Radcliffe, acting on behalf of an undisclosed London-based client. Radcliffe, who did her bidding while seated in the pavilion, secured the chestnut from the consignment of Hartley/de Renzo Thoroughbreds.
"She is for my new client," Radcliffe said of the million-dollar filly. "It's JDL Capital SARL. I am not going to name the guy, but we've got horses now in England and America, mostly in America. I think I've bought eight since March. He is based in London. This is more for investment purposes and to have a bit of fun as well. This is his first foray into racing. So let's hope it's lucky for him."
Of plans for the filly, Radcliffe said, "I'm not sure where she will go yet. So, any trainers who want to call me, they can."
Hip 552 is out of Twixy (Mutakddim) and is a half-sister to multiple stakes winner Twixy Roll (Roll Hennessy Roll) and from the family of GI Breeders' Cup Dirt Mile winner Caleb's Posse (Posse).
"To me, she was the star of the sale," said Radcliffe. "I saw her in January and I saw her in March and April. And I waited for her. I didn't know I was going to pay that much for her, but it's a strong sale and the good horses are making the money."
The sale-topper worked a furlong in a co-bullet :10 flat during last week's under-tack show.
"She went in :10 and went out in :23 and change," Radcliffe said of the work. "It doesn't get much better than that. And obviously, she is the last of the Arrogates, so it's good to get her."
Bred by Dale Taylor, Sr., she was purchased by Randy Hartley and Dean de Renzo for $255,000 at last year's Keeneland September sale.
"We bought her in Book 1," Hartley recalled. "She looked just like she looked today. She's the same filly, just bigger. The reason I think we got her is because Book 1 is a hard book at Keeneland. It's all about the top pedigrees. The mare was a nice mare, but she hadn't produced a Grade I winner or anything yet. And I think the big pedigree people weren't interested. But when we saw her, she was just a filly that we had to have."
Hartley said he had hoped to focus on buying fillies at last season's yearling sales, but that plan did not work out.
"I said at the beginning of the year, that we were basically going to be buying fillies because we felt like that was a safer market," Hartley said. "We ended up buying just one filly because they were hard to buy. But she was the right one. From the time we bought her, we were ecstatic."
Among Hartley and DeRenzo's partners on the filly was Rich Mendez, who owns the Miami-based music label Rich Music.
Represented by Hartley and de Renzo at the Ocala Breeders' Sales Company's Spring sale, Mendez purchased a colt by Into Mischief for $1.3 million.
Now that he had both bought and sold a seven-figure juvenile, the racing newcomer was asked which was more fun.
"I think selling a million-dollar horse, I'm not going to lie," Mendez said. "It's just the adrenaline is different. I've known this filly for seven months. I watched her grow and I got close to her. She's an amazing filly."
Mendez admitted he had given the filly a pep talk before she went into the ring Tuesday.
"I went in her stall and I gave her my pep talk," he said. "I told her, 'You've done good so far. Now let's go be the sale topper.' And I just sat in there [in the pavilion] and I was talking to her [as she was selling]. So that's kind of why I think selling is a little more adrenaline for me."
Once it was pointed out that his Into Mischief colt could go on to win a Kentucky Derby in his colors, Mendez said with a smile, "Then that will be different."
Radcliffe made three purchases for her new client at the two-day Midlantic sale. She went to $350,000 for a colt by Liam's Map (hip 127) and to $170,000 for a colt by Take Charge Indy (hip 80).
King Adds a Pair of Bullets to His Stable
Gus King, bidding alongside trainer Ron Moquett and agent Jeff Mackor, went to $510,000 to acquire a filly by Take Charge Indy (hip 361) from the De Meric Sales consignment early in Tuesday's second session of the Midlantic May sale.
"She had a good pedigree and we liked her physical, so we decided to take a shot at it," King said after signing the ticket on the filly.
The bay juvenile is out of Perfect Paula (Songandaprayer) and is a full-sister to GIII Forward Gal S. winner Take Charge Paula. Purchased as a weanling for $100,000 at the 2021 Keeneland November sale by Tami Bobo's First Finds, she worked a furlong last week in a co-bullet :10 flat.
King admitted he had gone past his expected budget on the filly Tuesday.
"No," he said emphatically when asked if he had planned to spend that $510,000 on the filly. "These guys talked me into it," he said, while gesturing towards Moquett.
Later in the session, King added another colt to his racing stable when going to $325,000 for a son of Catalina Cruiser (hip 568). Consigned by LG, agent, the juvenile worked a quarter-mile last week in a co-bullet :21 2/5.
King, the owner of the Alabama-based packaging company ColorMasters LLC, has been in racing for about 15 years and currently has seven horses in training. He has been upgrading his program and recent purchases include a son of Into Mischief (hip 292) acquired at Keeneland last September for $600,000. Now named Maravich, the 2-year-old recorded a three-furlong work at Churchill Downs last Friday.
"We have some good 2-year-olds," King said.
Asked why he has made the decision to up his buying at the horse sales, King laughed and said, "I want to win some big races."
Seemar's World Tour Stops in Maryland
Bhupat Seemar, trainer for the Dubai-based Zabeel Stables, has been hitting the 2-year-old sales across the globe in recent months and landed this week in Maryland for the Midlantic May sale.
"We've bought through agents, but this is the first time I'm here," said Seemar, who saddled Summer is Tomorrow (Summer Front) in the 2022 GI Kentucky Derby. "We usually go to Europe and I'm basically chasing all of these sales. I have just come from France, from Arqana, and before that I was in Newmarket for the Guineas sale. And then I am going to Ireland for another sale. I don't know what time zone I am in at the minute."
Of the decision to make the trip to Timonium, Seemar explained, "We've got a lot of dirt racing and last year, we had a horse who qualified for the Kentucky Derby, which was amazing. This year, there is a filly for another trainer who qualified for the GI Kentucky Oaks. There is a lot of demand for 2-year-olds and a lot of demand for good dirt horses, so where else to come than to this sale because it's the only sale for 2-year-olds on the dirt."
Seemar made his first purchase of the two-day auction when going to $150,000 to acquire a colt by Speightstown (hip 254) from the Top Line Sales consignment Monday.
"We have done exceptionally well with Speightstown," Seemar said of the colt's appeal. "I trained [2022 G1 Dubai Golden Shaheen S. winner] Switzerland and before that, my Uncle [Satish Seemar] trained [2013 Golden Shaheen winner] Reynoldothewizard–two very, very good horses and they were both by Speightstown. When I was at Taylor Made, Speightstown himself was a yearling there. So I have a lot of affinity with him and we've had a lot of success. He's a good model, a good-looking horse. I think he fits every specification we've got."
During Tuesday's session of the Midlantic sale, Seemar went to $85,000 for a son of Mendelssohn (hip 397) from Cary Frommer.
"We bought the Mendelssohn colt and he's out of a Curlin mare," he said. "He's got beautiful action. He's a stamp horse, he's a very good-looking horse."
Seemar worked as an intern at Taylor Made Farm and served a stint as an assistant to trainer Bob Baffert. He took over training duties at Zabeel Stables from his uncle last summer.
Seemar's stable of international 2-year-olds, includes a group sourced locally in Dubai at the Goffs Breeze-Up Sale in March, where client Dr. Jim Hay acquired the auction's top two lots and four of the top seven. Hay paid €543,210 for a son of Gun Runner (hip 18) and €518,519 for a son of Justify (hip 2).
"Typically we end up getting about 25 2-year-olds," Seemar said. "I've got some really good owners and they bought a few in the Dubai sale–we bought nine over there. Dr. Jim Hay is a big international owner and he bought a few there. I've got one coming from Japan. It's going to be a big international mix of horses."
Seemar said he was finding good opportunities at all the sales he has attended.
"To me, a good horse will sell anywhere," he said. "If you have enough horses–I think they have 600 horses here–so you can always find value and some good diamonds in the rough from them."
More News from Timonium