Image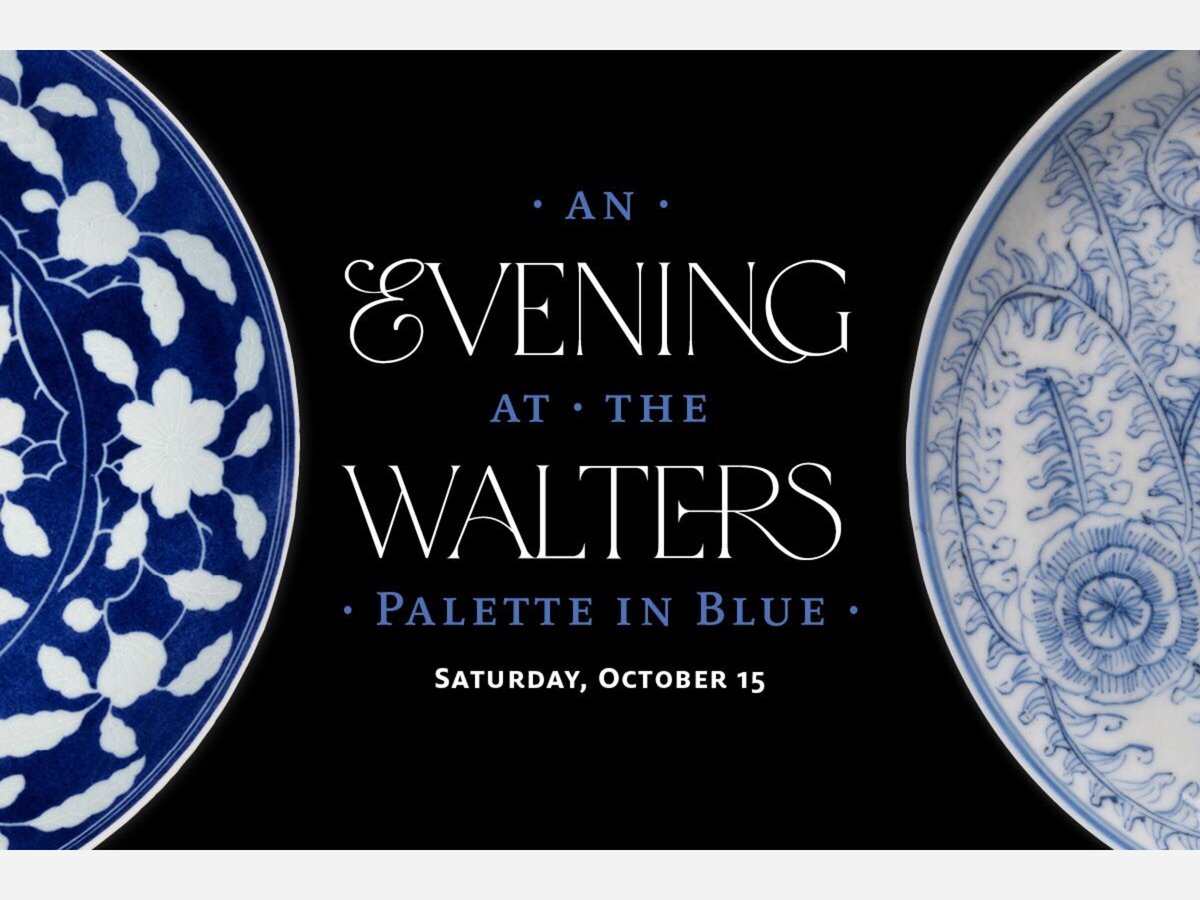 The museum's biggest bash of the year is just around the corner—have you purchased your tickets yet?!
An Evening at the Walters, the museum's largest annual fundraiser, takes place October 15 at the museum. The night begins with cocktails on the Sculpture Court at 6 p.m., followed by an intimate dinner in the galleries surrounded by your favorite works of art. Dine alongside The Ideal City or a centuries-old terracotta amphora? Yes, you can.
At 9 p.m., the Late-Night Party kicks off on the Sculpture Court. Think: espresso martinis made with Ceremony Coffee Espresso alongside desserts from Berries by Quicha and Cloudy Donuts.
We can't wait to spend an evening at the Walters with you celebrating the tremendous impact of the arts on our community!
The theme of An Evening at the Walters is Palette in Blue.
Effortlessly threading together all corners of the Walters Art Museum's collection, the color evokes the pop of sapphire on Lalique's Pansy Brooch, the cobalt blue peonies painted on Chinese porcelains, the lapis lazuli of an elaborately carved Egyptian falcon, and the midnight blue enamel of a diamond-speckled French bonbonnière.
Explore selections from the collection below...
This hair ornament, made of brilliant blue kingfisher feathers, was likely once worn by the empress dowager, the effective ruler of China during the later years of the Qing Dynasty. It is an example of Chinese decoration and the symbolism used to express one's rank. The small phoenixes represent the empress, while the pearls and gemstones tell us that this piece is meant for the highest ranking woman in Chinese society.
This caddy is similar in shape to a 17th-century teremok. Look closely and you'll see four crowned Sirins depicted within pale blue circles on each of its sides. The remaining ornamental elements consist of scrolls and geometric patterns in brown and grey-green against dark blue.
In the 18th and 19th centuries, marquise rings set with diamonds on dark blue or red enamel backgrounds became fashionable in Europe. It was characteristic to frame these rings with a border of diamond sparks set in silver mounts.
The blue enameled rings, like this one, evoke celestial allusions and were called "bagues au firmament," aka rings of the heavens.
More News from Timonium