Image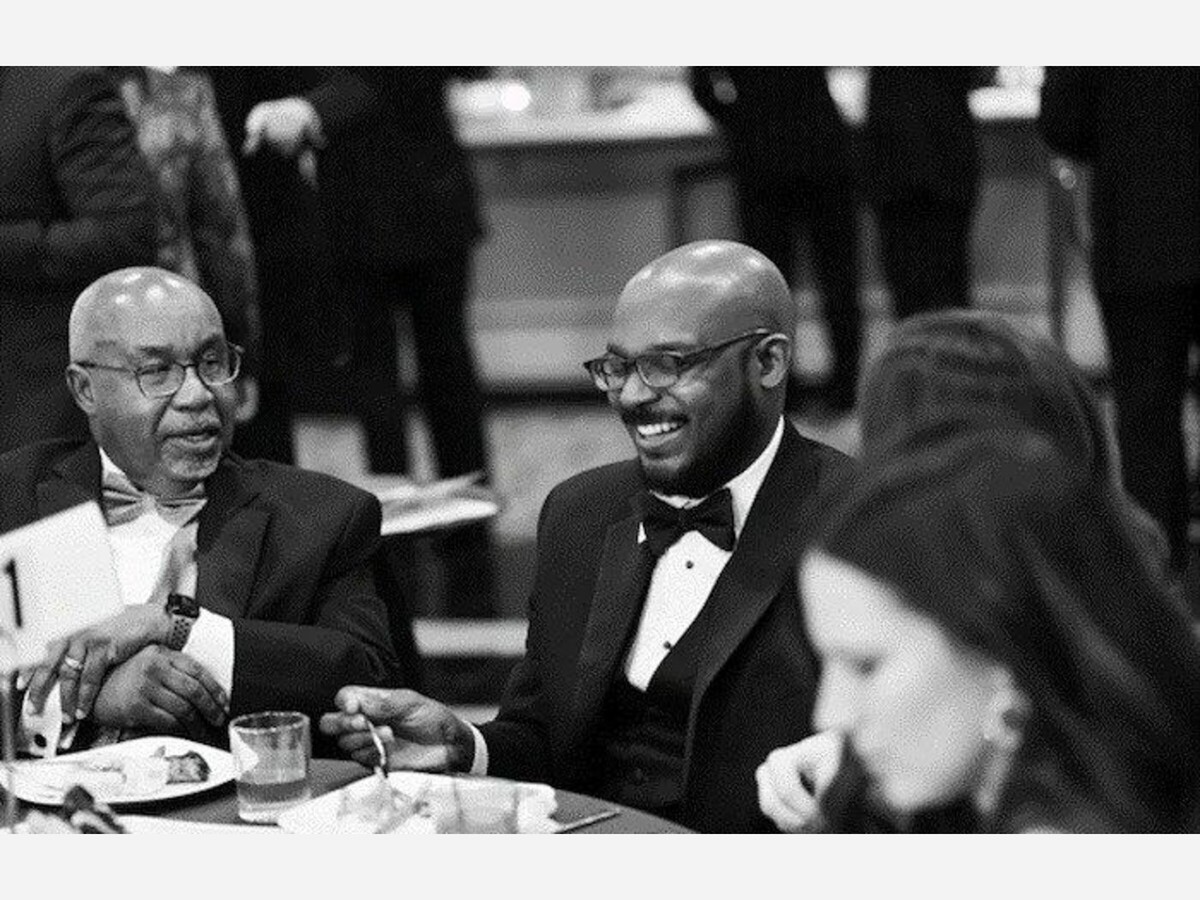 BEYOND BCPS: IAN WRIGHT, FRANKLIN HIGH SCHOOL GRADUATE
Serving the community through a career in law
By TEAM BCPS
FRANKLIN ALL THE WAY
Initially, Ian Wright's life moved in a straight line – from Franklin Elementary School to Franklin Middle School and then Franklin High School.
In elementary school, he enjoyed music classes, the school band, and sports, and he was a proud member of the safety patrol. "My appreciation for nature began at Franklin Elementary, too," Wright says. "There were woods behind the school, and we would take nature walks and study the small animals and plant life we found."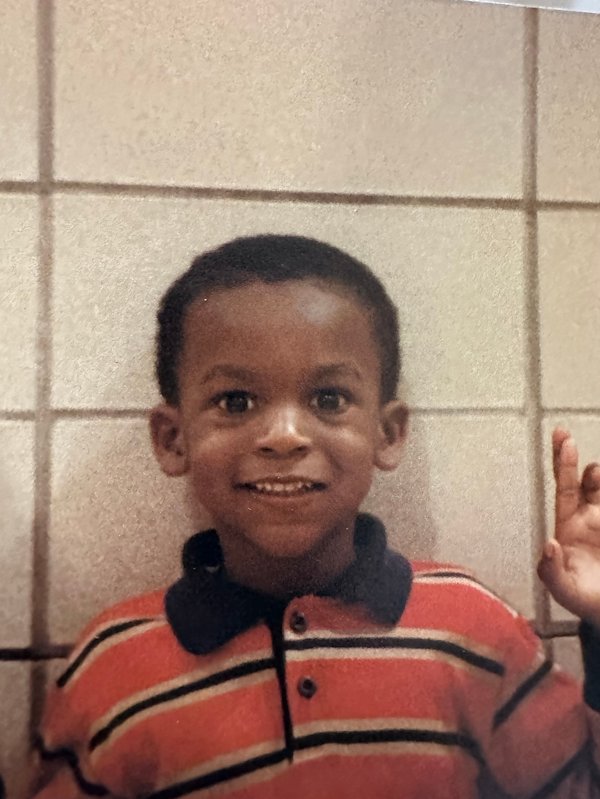 Wright at Franklin Elementary School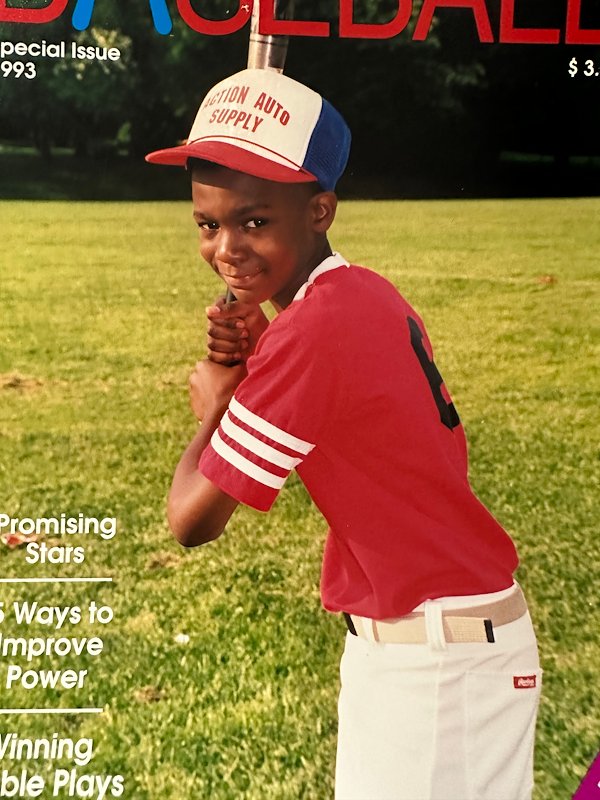 SPORTS, SCIENCE, AND NATURE
His interest in sports, science, and nature continued to expand in middle school. "Our science teachers were really interesting," he remembers. "I enjoyed doing experiments and watching Bill Nye videos. Also, this was around 1992, 1993, and we were just beginning to pay more attention to global warming. We were noticing that it snowed less. We could see the change."
At Franklin High, Wright played sports all four years. "I played football and baseball," he says. "On the football team, I was a quarterback and ultimately the team captain. In baseball, I played outfield. Our baseball team was highly competitive, always in the playoffs. Football was more of a struggle for Franklin during those years. I wrote about it in my college application essay. The team faced a lot of adversity, but I think that trying to keep the team together, trying to push forward, made me a better person. It was about the camaraderie for me. I think that experience taught me that I wouldn't quit, that I could work my way through adversity."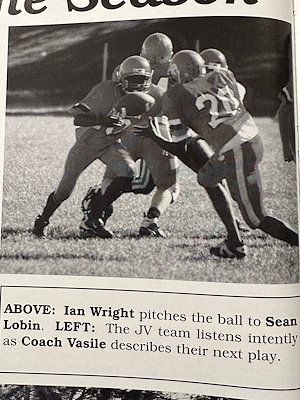 Wright playing football, sophomore year at Franklin High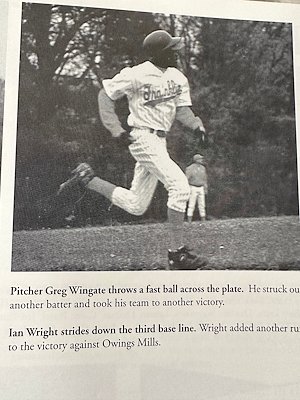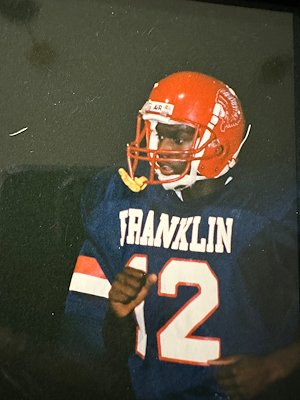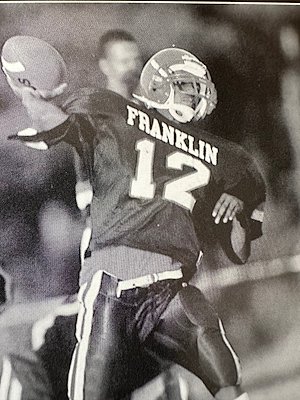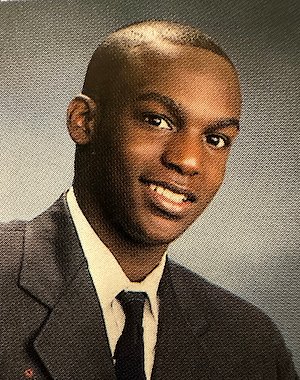 Besides sports, Wright was deeply engaged in his English and journalism classes, sometimes writing articles for the school paper, the Franklin Gazette. "I knew that English and journalism classes would help with my career as an attorney," he says, "and we had a fantastic journalism teacher."
Wright sums up his time in BCPS as a "great experience." He adds, "I still have friends who I met in elementary school, middle school, and high school."
BECOMING AN ATTORNEY
His next great experience was earning a degree in history at University of Maryland College Park. "I got a great education, and I had a great time," he says. "I also met many lifelong friends, including the woman who is now my wife."
With his eye still on the goal of becoming a corporate attorney, Wright's next stop was attending University of Baltimore Law School. During the summer between his first and second years of law school, he worked in the Baltimore City Office of the Maryland Office of the Public Defender.
Between his second and third years of law school, Wright was beginning to consider a career in environmental law. He planned to take a summer job at the Baltimore County State's Attorney's Office. However, it turned out there was also a full-time law clerk position available. Wright applied for the law clerk job and was hired. Even though accepting the job meant he had to switch to night classes and spend an extra six months completing his law degree, the decision was worth it as it helped him discover the rewards of serving as a prosecutor.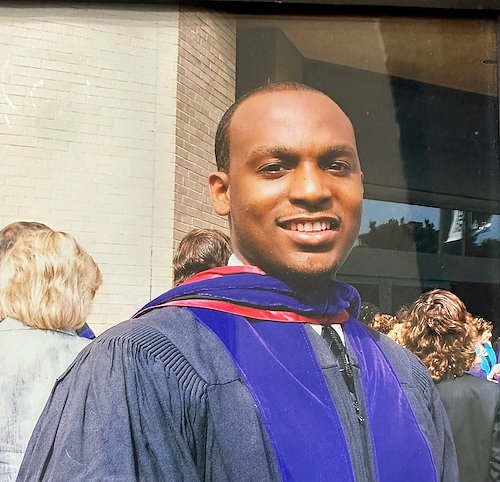 Wright, graduating from law school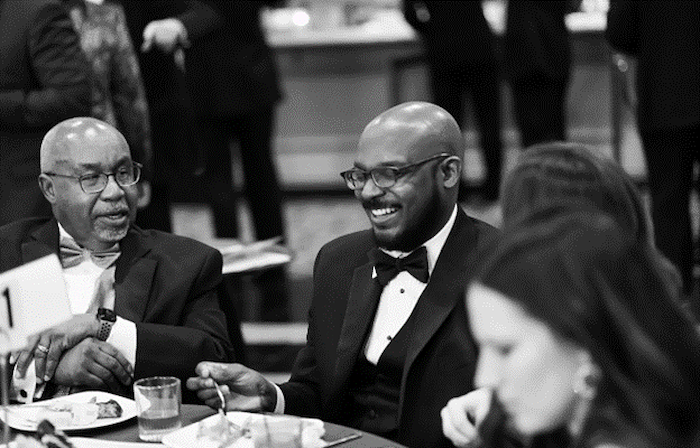 Ian Wright, center, with his father (left), retired Judge (Court of Special Appeals) Alexander Wright, at a Baltimore County Bar Association dinner in 2023
SERVING THE COMMUNITY
Immediately after graduating from law school, Wright began working as an assistant state's attorney in Baltimore County. "At first, I was in district court prosecuting serious traffic crimes," he explains, "then I moved into the juvenile division, and then to Circuit Court division." In Circuit Court, Wright took on cases including murders, assaults, and burglaries.
Wright is currently a supervisor in the Circuit Court division, supervising 10 attorneys.
"I love my work," Wright says. "I live in Baltimore County, and through this work, I get to be a public servant and serve my community, which is so rewarding. In addition, I am helping to protect victims and also rehabilitate offenders."
Asked what would surprise many about his work, Wright says, "The justice system moves slowly in a lot of ways. Getting from the commission of a crime to adjudication is slow, and what happens in court takes longer than many expect. It can be frustrating."
BACK TO BCPS
Outside of work, Wright and his wife, who works as a federal agent, spend a lot of time with their two wonderful children, Andrew, age 10, and Eva, age 8.
Wright describes himself as a big sports fan. In addition to supporting the Ravens and Orioles, he enjoys following many other sports from Formula I racing to women's volleyball.
In a few ways, Wright's life, which once so clearly moved in a straight line, has circled back to BCPS. In addition to his children attending BCPS schools, he now serves on the board of the Franklin High School Alumni Association and is an advisor to Dulaney High School's mock trial team.
"It is very rewarding," Wright says. "I was surprised at how good they were when the school year began, and I have been impressed to see how much progress they have made in just a matter of months."
© 2023 TEAM BCPS